COVID-19 VACCINE UPDATE:
We currently do not have any COVID-19 vaccines in stock. Please check back with us at a later time but note that we will be requiring appointments for the COVID-19 Vaccine.
At this time, we encourage you to check with other sites at this time to see if they have the vaccine available.
GET IMMUNIZED NOW FOR THE FLU!
Call us or stop in to Canby Drug for your flu shot. Must be 18 years or older.
* Please practice social distancing throughout the store.
* Masks are required by the Governor's mandate
* Hand sanitizer available in entry for customer use
* We will continue to offer curbside pickup
Blue Cross Blue Shield of MN (Blue Plus) pharmacy customers:
ATTENTION:
Blue Cross Blue Shield of MN (Blue Plus) Canby Drug pharmacy customers,
We have reached an agreement with Blue Cross Blue Shield to maintain
pharmacy provider status.
We will continue to be a provider in 2021.
If you received a letter previously stating otherwise, please disregard
that information.
THANK YOU for your patience and for your continued patronage!
Sincerely,
Mark Whittier
507-223-5955
Mon-Fri: 8:30a.m.-5:30p.m. | Sat: 9a.m.-2p.m. | Sun: Closed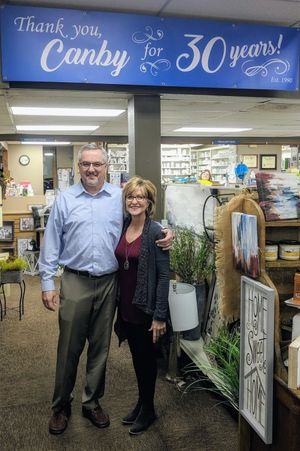 Thank You!
2020 marks 30 years since Canby Drug and Gifts was established by Mark and Kari! Thank you, Canby, and the surrounding area for your patronage over the past 30 years. We look forward to continuing to serve you!
Where Your Health Comes First What Patients Are Saying About Canby Drug & Gifts
Sign Up For Our Newsletter
Subscribe to our newsletter for seasonal promotions, health news and savings